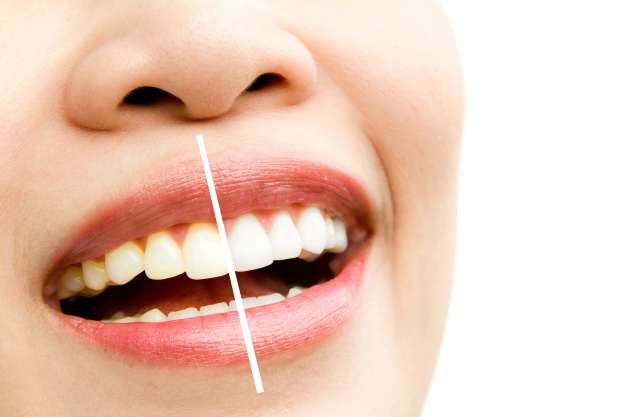 WHAT IS DENTAL BLEACHING?
If you complain of the yellowish discoloration in your teeth or if you prefer your teeth to look whiter, dental bleaching will provide an easy way to solve this problem.
Preferred by many individuals recently, tooth whitening (bleaching) procedure is performed to have quite white teeth. Tooth whitening is performed in 2 ways. The first one is the office type whitening and the other is home type whitening.
HOW IS THE OFFICE TYPE WHITENING PROCESS PERFORMED?
Prior to the bleaching process, tooth cleaning is performed in order to remove the colorings associated with external factors (teas, coffee, cigarettes, etc.) and to eliminate dental stones.
It should be remembered that the aesthetic fillings already made in the front teeth may be needed to be renewed due to emergent color variations after the procedure.
Likewise, if there are dental carries or their initiations are present on the visible surfaces of teeth, they should be cleaned before bleaching.
HOW IS THE HOME TYPE WHITENING PROCESS PERFORMED?
At home bleaching is a dental whitening method that can be applied by the person himself/herself in accordance with the instructions of the dentist.
Before this procedure, tooth cleaning is done first.
A personal special apparatus (mold) is prepared according to the measures taken from the patient.
The patient applies the tube-shaped whitening agent into the apparatus and applies it to the teeth for at least 4 hours every 3-4 days.
We recommend this method to the patients as a reinforcement to the office type whitening if the desired outcomes are not achieved. Secondly, it is recommended for the patients requiring a sustained whiteness.
WHAT ARE THE POINTS TO BE CAUTIOUS OF AFTER THE WHITENING PROCEDURE?
You may experience some sensitivities like electric shock or pinning in 24 hours after the bleaching procedure. Painkiller medicine taken half an hour before and taken after the procedure will reduce this sensitivity.
Hot and cold food should not be consumed for 24 hours as it may increase the sensitivity after the procedure.
Acidic foods and beverages should not be consumed for 24 hours. Otherwise, the feeling of sensitivity will increase more.
Teeth must be continued to be cleaned 2 times a day but more cautiously.
Dental bleaching is a reversible operation. For this reason, food and beverages causing discoloration of the teeth or those containing food coloring (tea, coffee, cocoa, chocolate, tomato paste, red wine, colored sauces, fruit juices etc.) should not be consumed for 24 hours after the operation and during a few days in the following.
Tobacco and tobacco products (cigarettes, pipes, etc.) will have an adverse effect on the tooth color, therefore, care must be exercised as regards to their consumption.
If you do not pay attention to all these things, your tooth color may take its original shape soon.