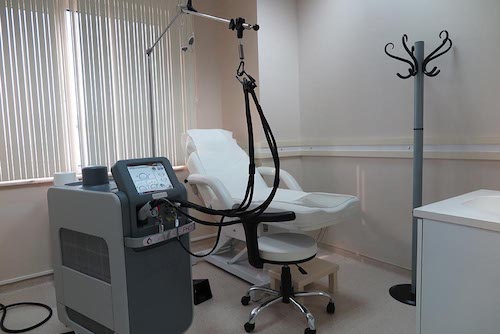 LASER EPILATION
What is laser epilation?
Applied in millisecond shots, the skin-compatible laser light condensates in the hair follicle and damages merely the follicle without harming the surrounding tissues, helping to get rid of unwanted hair.
Is laser safe?
The laser epilation is quite safe to a large extent when it is used in appropriate cases within the appropriate doses. No accumulations have been reported so far.
The most reliable epilation system, which is the FDA approved American Alexandrite laser system (CANDELA Gentle LASE PRO) is used at our healthcare center. These devices are used in many developed countries such as the United States, Britain, Netherlands, and Australia.
What is the advantage of laser system over the other methods?
First of all, the effectiveness of the system is too strong to compare with any other method.
It is rather painless and just a little flicker is perceived by individuals.
The procedure can be performed in relatively larger areas for short periods of time.
When is it inappropriate to apply laser epilation?
Laser therapy is not applied to individuals with cardiac pacemakers or epilepsy; in individuals who are pregnant; whose hair color is fair, white or fluffy; and in individuals who are sensitive to light. Furthermore, it is not applicable after sunbath or solarium.
How long should the intervals between the sessions be?
The intervals between the sessions are, on the average, 4-6 weeks for the face and 8-10 weeks for the body. Gradually the intervals between the sessions will be longer. These may vary depending on the skin and the hair type of the individual.
How long is the treatment period?
Depending on the color of the skin and hair of the individuals, the treatment results may vary from one individual to the other.
Nevertheless, starting at the beginning of treatment, the hair will grow more slowly and thinner.
Does laser epilation pose any risks for discolorations or burns?
If the skin is dark or suntan, there is a potential risk. For this reason, more fine-tuned dosages are administered in individuals with darker skins and during applications after sunbaths. The potential discolorations are not permanent and improve in a few months.
Can laser epilation be applied to men?
Laser epilation is widely and successfully applied to men, too.
LASER TREATMENT FOR SKIN DISCOLORATION
Discolorations such as sunspots, acne blemishes, and age spots are successfully treated with the laser epilation device at our healthcare center.